Grace
The Holy Spirit, Discipleship, and Spiritual Growth with

Bible study links to Bible verses.
As we focus on God's grace and Holy Spirit, this may only be the first step in something larger. Such prayer may result in the motivation, "to serve God in the way He desires." Jesus explains in John 15:5 that the results of our life efforts can be far different if we learn "to abide in Christ and He in us."
At the point Peter brought this concept into his discipleship; "His life grew to honor God":
Peter's role in the Great Commission helped develop believers that came to find salvation.
The humility Peter displayed in his own death glorified God.

(John 21:18-19 /Petrine Cross)
Peter's writings in the Bible touch each upcoming generation to this day.
The "Grace" booklet
below can help bring our heart to receive this principle; allowing us to more easily recognize the role Christ has for us within the Father's agenda.
When this .pdf booklet appears, touch the download emblem or save icon , to place

a copy of this .pdf booklet onto your device for continued use.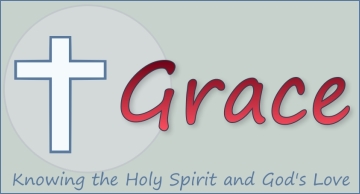 (.pdf booklet icon above - web-based edition below )
Table of Contents
Introduction: What is God's Grace?

Chapter 1: Self Reliance vs. Grace

Chapter 2: The Degree of God's Love

Chapter 3: The Holy Spirit

Chapter 4: Practical Application

Chapter 5: Why Might this be Important?

Chapter 6: The Message of Grace made Easy

Conclusion: A Step toward Spiritual Maturity

Except otherwise noted: Biblical quotes are from: THE HOLY BIBLE, NEW INTERNATIONAL VERSION®, NIV® Copyright © 1973, 1978, 1984, 2011 by Biblica, Inc.® Used by permission. All rights reserved worldwide.

A publication of Real Prayer Inc.