The Message of Grace made Easy
Chapter 6 Prior Chapter
Christ's message is a simple one:
God loves us. He is offering his gift of grace (spiritual learning) through Jesus that we may rise to a level of obedience which is acceptable in His holy presence in heaven. God's will is done in heaven and He wishes to prepare us for that day. God simply asks us to provide the willingness to receive these skills so that our relationship may flourish.
A prayer of re-birth needs to be understandable:
Dear Heavenly Father,

I have placed a lifetime of selfishness ahead of your will and wish to turn from my sin. I ask for your forgiveness. I now give to you my entire existence, my hopes, my dreams, and my ambitions. Please be my Lord so that I may submit to your desires ahead of my own. Allow your will to become my motivator for the remainder of my life.

Amen
Why are hearts reluctant to receive Christ's message?
Jesus Christ is asking us to give up many things which makes us feel secure and that we cherish and to place God's will as the first priority in our life. We are then expected to submit to a spiritual re-birth similar to that of an infant who is open to experiencing a whole new world of learning.

*****
The first step in the hope of changing a heart begins with prayer, asking "His will be done" for that individual. Be patient in prayer. God's timetable in offering special opportunities may reach into years or decades rather than days or months.
For those of us who lack the talent to develop a conversation on faith, we still have the ability to share the printed Word. Our own booklet is available at: realprayer.org/vw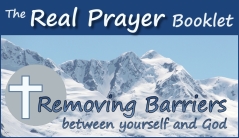 Such booklets can been mailed with get-well cards or notes of caring. It can be delivered in person with a smile, and the words, "I have a gift for you."
Sharing by e-mail attachments or social media links may require a greater follow-up to promote the booklet to being read.
While "evangelism booklets" or Bible tracts can bring a message of value, the individual may need further support to answer their questions. Pray for guidance and evaluate options, including those resources within your church. Could you offer to accompany the person to church?
While young children tend to be are very open in their learning, their expanding minds may have questions. It is essential any questions are answered in a way the individual finds relatable. If not, things of faith may be tuned out. Later, faith may only be a consideration a moments of personal struggle when the individual's norm is no longer within their comfort zone. Such times need to be evaluated; is to the individual being open to spiritual learning?
Rather than provide a set of predetermined answers, do we have an experience in our own personal growth where Christ touched our lives that relates to the question being asked? If we don't have an answer to a question, consider prayer and asking God for his path. We are not alone. There are options and clues through resources beyond ourselves. There is nothing wrong with replying "I do not know, but I will get back with you."
People with questions about God can sometimes sense an environment where the Holy Spirit is present. It can occur with one-on-one counseling. The environment is strengthened when like-minded individuals are in a small group such as bible study or around a camp fire at a retreat. Those who are blessed like Billy Graham can foster such an environment on a larger scale. Ingredients include gratitude, submission, and a humility before God. Opening in prayer which touches upon this topic may be a consideration. After such resources are provided, if the time is right, do not forget these five words: "Will you pray with me?"
The bottom line is that it takes a great deal of trust in both the message and in the messenger for us to reach into the unknown to ask God to come into our lives. Not only does the message need to be delivered, it needs to be personalized to correlate with the questions being asked.
Conclusion: Spiritual Maturity