Real Prayer
The Bible and How to Pray come together
Lacking humility
in how we pray may

cause

a

deafening silence

within our prayer life.
Does our prayer focus on

grace

, the things Jesus wants us to learn as we prepare for heaven or limited to earthly concerns?
Authentic prayer offers tender moments in which The Holy Spirit intervenes in our growth.
What a pleasure it is to experience the degree of s

atis

faction that comes from being at a level in the

spiritual learning process

that God desires.
The beauty

of God's love is that He can take us to destinations in life beyond our imagination.
The icon below is a unique guide in how to pray in a way that we may come to understand the things that God would have us know.
After tapping the icon below and the .pdf edition is displayed, consider the download

or save

option for continued use.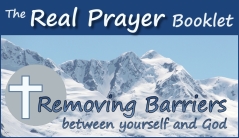 Online Edition
Chapter 1:
Facing God
Chapter 2: The Bible and God's Plan
Chapter 3: What is Prayer?
Chapter 4: How to Receive Grace
Chapter 5: Forgiving Others
Chapter 6: Facing Ourself
Chapter 7: How to Pray
Translations: Spanish Portuguese Russian
Biblical quotes are from: THE HOLY BIBLE, NEW INTERNATIONAL VERSION®, NIV® Copyright © 1973, 1978, 1984, 2011 by Biblica, Inc.® Used by permission. All rights reserved worldwide.